Creating environments for data to thrive.
Western Digital creates environments for your data to thrive. On your phone, in the cloud, across organizations. Everywhere data lives, we're there to drive the innovation necessary for results today and the future you'll create tomorrow. New devices, new systems, new solutions, new architectures, all optimized and tuned to create the right conditions for your data to realize its full potential.
As an industry leader, we accept the growing responsibility to empower people and systems that depend on data. To develop closer relationships with customers and partners. To anticipate how data will reshape lives and industries around the world. To unite the people and ideas that will make the promise of data a reality.
Data Center Drives
Accelerate applications, analytics and data access with Western Digital's broad portfolio of Ultrastar HDDs, SSDs and memory extension drives. The capacity and performance to help your data thrive.
Ultrastar® HDD
Ultrastar HDD innovations, including the first commercial implementation of Energy-Assisted Magnetic Recording (EAMR) technology, the industry's first Triple Stage Actuator(TSA), the sixth generation product with HelioSeal technology and Shingled Magnetic Recording (SMR), enable the industry's highest capacities to lower data center TCO.
Continuous Innovation for Highest Capacities and Lower TCO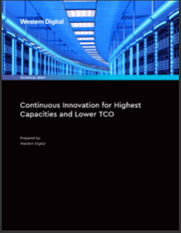 The Ultrastar DC HC550 18TB CMR HDD and Ultrastar DC HC650 20TB SMR HDD are delivering industry leading capacity for the data center through a combination of new and proven technologies.
Western Digital is the first to deliver Energy-Assisted Magnetic Recording (EAMR) technology and a Triple Stage Actuator (TSA). These new technologies combined with further mechanical innovations and HelioSeal technology provide the industry's highest capacities to enable data at scale with optimized TCO for data center architectures, while maintaining workload reliability and performance. LEARN MORE
Products

ULTRASTAR DC HC600 SMR SERIES
Highest Capacity.
Sequential Write Workloads.
TAKE ME THERE

ULTRASTAR DC HC500 SERIES
High Capacity for Massive.
Data and Lower TCO.
TAKE ME THERE
ULTRASTAR DC HC300 SERIES
Medium Capacity.
High Access Density.
TAKE ME THERE
ULTRASTAR DC HC200 SERIES
Low Capacity.
Entry Level.
TAKE ME THERE
Ultrastar® SSDs & Memory Extension Drives
Top Considerations for Enterprise SSDs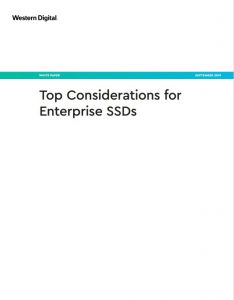 Take the guesswork out of choosing the right SSD for your workload or application. We'll share the top eight things to consider when selecting SSDs. LEARN MORE
Products

ULTRASTAR NVME SERIES
Low Latency.
Maximum Throughput.
TAKE ME THERE

ULTRASTAR NVME SERIES


Scalability for Servers and Storage Systems.
TAKE ME THERE

WESTERN DIGITAL CL SN720


NVME SSD FOR DATA CENTRES
High Performance for Boot and Edge.
TAKE ME THERE
ULTRASTAR SATA SERIES SSD
Optimized for Cloud, Boot and Edge.
TAKE ME THERE
ULTRASTAR DC ME200
MEMORY EXTENSION DRIVE
Scale In-Memory Computing
Infrastructure at a Better TCO.
TAKE ME THERE