A great all-round solution for your small business needs. The RTG Server 4018S-0 is a reliable mainstream system ideal for local cloud and web-hosting or even entry-storage.
Specifically designed for the India market, this cost effective solution includes an AMD® EPYC 7001 series processor, DDR4 memory, platinum-level efficiency power supply and IPMI out of band management with KVM over IP as standard .
The RTG Server 4018S-0 is designed, built, and tested in our world class build facilities, and can be further enhanced with multiple additional options to meet your applications requirements. Upgradeable from anywhere between 64GB to 2TB of DDR-4 3200MHz Registered ECC DRAM, and from 1TB to 64TB of S-ATA disk powered by Western Digital®, there are few applications which cannot be satisfied by these options.
Key Features (Standard Specification)
Use Cases
OS Compatibility
Warranty Options
Configure This System
Tower form factor
1 x AMD® EPYC 7351 CPU (16 Cores, 32 Threads, Max boost clock up to 2.9GHz, Base Clock 2.4GHz, Default TDP/TDP 155/170W)
Single Socket Motherboard
64 GB (4x 16GB) DDR-4 Reg ECC 3200MHz
1 x 1TB Western Digital® Enterprise Class S-ATA HD
Dual 1GBase-T LAN .
Support for Intelligent Platform Management Interface v.2.0
IPMI 2.0 with virtual media over LAN and KVM-over-LAN support
668W Platinum High Efficiency PSU
3 Year Next Business Day Warranty
Data Entry Terminal
File server/ Entry Storage
Local Cloud and Web Hosting
Mainstream, Compact
Windows Server 2016
RHEL Linux 7.4
SuSE SLES 12SP3
Ubuntu 17.4
Ubuntu 18.04 LTS
Ubuntu 18.04.2 LTS
CentOS 7.4
Your RTG Server comes with Next Business Day Warranty as standard
This service is available during normal business hours, Monday through Friday, with the exception of local holidays.
Calls placed before 5pm local time will receive service the next business day, if required.
In the case of calls placed after 5pm local time, service may take an additional business day, if required.
For more information visit our Services Page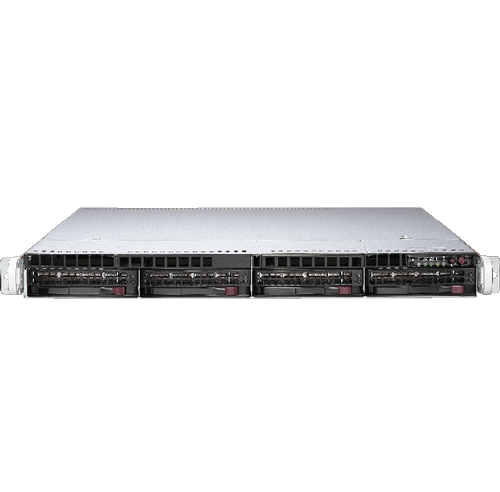 RTG Series
A great solution for your enterprise needs from software defined storage, datacentre applications or web hosting, the RTG Server 1018N-0 is a versatile workhorse for a variety of use cases.
Contact Us
Our experienced teams are on standby for general/support and warranty questions.
Support
Please fill in the details below